Scottish Wildlife Cruises
Book your Scottish Cruise now for 2024 and 2025
Our exclusive wildlife cruises provide a sensational sea-going combination of luxury, adventure, and breathtaking encounters with wildlife. Our 10-night cruises explore far-flung destinations such as St Kilda, Mingulay, the Monachs, the Shiants and the Summer Isles, calling in at stunning locations such as Barra, Vatersay, the Uists, Lewis, and Harris. Or choose 6 or 8-night cruises, island-hopping the idyllic inner Hebridean islands of Mull, Iona, Skye, Eigg, Muck, Rum, and Canna. Our family business has customer satisfaction at its heart - we are currently finalists in the Herald Scottish Family Business Awards 2023
Lucy Mary new 3-night cruise for April 2024
Our new Hebrides Magical Mini-cruise, departing April 16th & 19th 2024 aboard Lucy Mary, is specially designed for those looking for an inspirational short break. New on the calendar, both dates are currently available for private charter.  Our vessel Lucy Mary has that extra touch of luxury for the Hebridean holiday of a lifetime, with a gathering of friends and family, or for a special celebration. Whatever you have in mind, share it with us and we'll make sure you have the perfect cruise.  Read the Scottish Field article by travel writer Morag Bootland of her cruise to Skye and the Small Isles to get a picture of luxury life aboard Lucy Mary.
Cruise availability for 2024 and 2025
Our cruise calendar for 2024 is selling fast and our 2025 cruise calendar is also now published.  Any cruise with no bookings is available for private cruise charter, so don't delay getting in touch for a special celebration. Not sure which cruise to choose?  Read our news page for cruise reports and our guest reviews.to help you decide!
Discover the outstanding beauty of the Hebrides from the sea
Cruising the coastlines of the Hebrides is an unforgettable experience. The sheer beauty of the scenery will take your breath away and it really does feel as if you have escaped to another world. The cruise stopovers always include some visits to the most idyllic beaches and bays, where there are no other people, only wildlife. The cruise itinerary will vary depending on weather conditions, opportunities to spot wildlife, and the wishes of guests.  Each evening the Skipper and Wildlife Guide join our guests for dinner to discuss the possibilities for itineraries and shore trips the following day. 
 
Scottish Wildlife Cruises with breathtaking encounters
Our sharp-eyed and highly qualified Wildlife Guides continually scan the seas, land, and skies to ensure our guests experience amazing wildlife sightings. A surfacing minke whale, bow-riding short-beaked dolphins, an otter playing in the seaweed, eagles wheeling overhead, porpoises, and seals are seen on almost every cruise, as are around 80 bird species. Rarities such as orca (killer whales), basking sharks and other types of whales appear less often but if they are there, our Crews will spot them. Read our recent amazing whale-watching cruise report. 
 
Wildlife Experts and accompanied onshore excursions
Our wildlife cruises are unique in the Scottish small-ship cruising sector because of the marine and wildlife expertise of our crews. Our wildlife experts are onboard all our cruises, they know the best habitats where the wildlife hangs out, the signs to look out for when wildlife is around, and will identify and provide information on all species seen or heard. Whether onboard or onshore, if the wildlife is there, they will find it for you. Have a look at our wildlife gallery which features over 100 rare and iconic species we see while cruising. We will continue to add the many other less obvious but just as fascinating species spotted. View the nature and wildlife gallery here> 
Get a taste of the fabulous food served onboard our cruises
The meals served onboard our vessels by our Chefs are legendary. All food is prepared from fresh, local ingredients, creating delicious dishes that get rave reviews from our guests.  A speciality of Hebrides Cruises is hand-dived scallops, often provided by the Skipper on board actually doing the dive! View our Fabulous Food Gallery>
Read our guest reviews
Trip Advisor doesn't review cruises, so we have our own review system on our website where guests can leave a review in their own words, unedited. Since July 2015 we have received over 400 reviews which can all be read on our website. We are delighted that they are 100% positive which is a credit to our crews and shore staff who always go the extra mile for our guests.
Get in
touch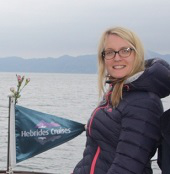 Need more information?
Contact Emma