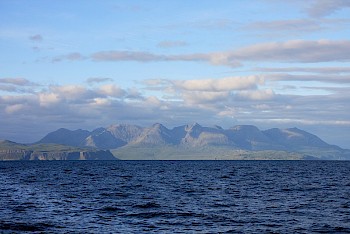 The best way to visit our cruising area in the remotest parts of the Scottish west coast and the Hebrides is from the sea, watching in awe as a fabulous coastline of sea cliffs and white beaches unfold before you with impressive mountain ranges rearing up as a dramatic backdrop behind.
The spring and summer months in our cruising area of the Hebrides are remarkably mild, with long days to get the most out of exploring the spectacular environment and enjoying the fantastic light on the sea and coastal landscape. It is if course also an area prone to storms but certainly for the past few years, the weather has been generally relatively storm free during our cruising season. But even on stormy days, the mood of the weather and the sea is entrancing, with the drama and light contrasts of the scudding sky, captivating to all the senses.
There are two distinct groups of islands in the Hebrides: the Inner Hebrides and the Outer Hebrides.
The Islands of the Inner Hebrides
Within the Inner Hebrides, which is closest to mainland Scotland there are 36 inhabited islands. The main islands that we visit include a cruise to the mystical Isle of Skye and the nearby Small Isles of Eigg, Rum and Canna. We also visit the Isle of Mull and its satellite islands of The Treshnish Isles, Staffa, Lunga, Ulva and Gometra . Each one of the Isles is totally different from its neighbour with its own distinct character and magic
The Islands of the Outer Hebrides and St Kilda
The Outer Hebrides is a stunningly beautiful chain of over 100 islands which protects the inner Hebridean Islands and the Scottish Mainland from the storms of the Atlantic. Practically the entire west coast is continuous white beaches and machair grassland, while the west coast is indented with thousands of small sea lochs and inlets to create the most spectacular coastal landscape. The Islands we visit include Barra, the Uists and Harris as well as the farflung smaller islands of Mingulay, the Monachs, the Shiants, Bernery and Taransay. A major destination is of course St Kilda – an archipelago on the very edge of Scotland and an unforgettable place to visit. There's something beguiling about islands on the furthest margins of our land
West Coast Mainland: Ardnamurchan, Morvern and Appin
On our cruises we also call in at some exquisite anchorages on the Scottish west coast mainland remote areas of Ardnamurchan, Morvern and Appin. Our Autumn short cruises explore the calm waters of Loch Linnhe and Loch Etive, among others as well as stopping over on the more accessible, but no less fascinating Isle of Lismore.